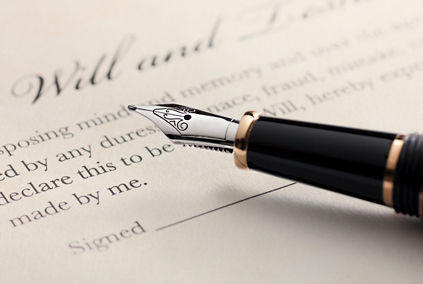 Charlotte Estate Planning Law
Wills, Trusts and Estates
You bought insurance to protect the ones you love, now let's talk about Estate Planning.
Many people do not realize that every adult should have an Estate Plan, no matter their age or income level. None of us wants to think about planning for the eventualities of life, but everyone wants to care for and protect the ones we love. Estate Planning is the best way to be sure you have provided for your loved ones, and to avoid having the State of North Carolina alone make important decisions about your property or the guardian for your children. Your Estate Planning attorney will help you to create a Health Care Power of Attorney and Advance Directives (commonly called a Living Will ), allowing you to make decisions about your healthcare today in the event you are unable to state your wishes for yourself in the future.
What are the essentials of a Will in North Carolina?
Most people are familiar with the traditional idea of a Will, sometimes called a Last Will and Testament. The primary purpose of most Wills is to state who will receive your property when you pass away. Making a Will therefore prevents the State from making the decisions about who will inherit, and avoids disputes among family members over your property. Under North Carolina law, an attested, or self-proving Will is often your best option. This requires a notarized document with your signature and the signature of at least two witnesses. A self-proving Will speeds up the process because it has been proven authentic already by the notary and witnesses. The Mendini Law Firm works with you to establish how you wish to distribute your property, drafts your will, and ensures that your will is properly signed and witnessed. Just as significantly, a good Estate Planning attorney will assist you in updating your will over time as your property, your wishes, or the needs of your family change.
What does the personal representative, executor, or administrator of an estate do in North Carolina?
The personal representative essentially closes out your affairs upon your death. He or she is responsible for ensuring that necessary debts against your estate are paid, that all proper probate court documents are filed, and that your remaining assets are distributed as indicated by your Will. A personal representative named in your Will is called your executor. This person will carry out your final wishes and make sure that your property is distributed exactly the way you desire. If you have not made a Will, the probate court will appoint an administrator to manage your final affairs according to State law. In your Will, you can also specifically ensure that your chosen executor, if he or she is not an attorney, will have an attorney's help (paid from estate assets) during the estate administration process.
What are the advantages of a Trust in North Carolina?
Put simply, when property, money or other assets are transferred into a Trust, they are owned by the Trust to be used only for the benefit of those named in the Trust Agreement. One basic advantage of a Trust is that this property does not need to go through the sometimes lengthy and expensive probate process after your death. Another advantage is that it allows you to control the timing of when your family gets your assets... you wouldn't give the Ferrari to a 16-year-old, would you? When we think of Trusts, what often comes to mind is money set aside to benefit a child by paying for educational expenses and maintenance if a parent should pass away. A Trust can also hold assets to be used to provide for children with special needs in the event of your passing. If you are concerned with privacy, a Trust is often a good choice, since it is a private document that will never become part of the public record in the probate office.
Your Partner in Estate Planning
At The Mendini Law Firm, we have extensive experience in Estate Planning for families in Charlotte, Huntersville, Gastonia, Concord and across Mecklenburg County, North Carolina. Our services include advice, counsel and creation of each element of your personalized Estate Plan, including:
Wills
Trusts, including Revocable Living Trusts
Special Needs planning, including Trusts for children with special needs or health issues
Financial Power of Attorney
Health Care Power of Attorney
Advance Health Care Directives or Living Wills
Assigning an Executor for your Estate
Asset protection and Business Succession planning
Tax planning to avoid unnecessary taxation of your Estate
Nominating a guardian for your children's welfare
Our experience allows us to offer you advice, options and preparation that streamlines the Estate Planning process. We will learn about your existing assets, your plans for your family, and your unique concerns. Then we will offer you Estate Planning options that meet your needs and allow you to go on enjoying your life, knowing that your family, your plans and your hard-earned assets are protected.
Contact us today at (704) 553-8370, via e-mail at [email protected], or through our online form for a consultation about how The Mendini Law Firm can help you protect your family, your assets, and your plans for the future.